L.A. LIVE
Holiday Ice


FAQ
Rink Information
Contact Information
Email

Rink Phone Number
(818) 296-7741

Address
L.A. LIVE Holiday Ice
800 W Olympic Blvd
Los Angeles, CA 90015

Connect with the LA Kings: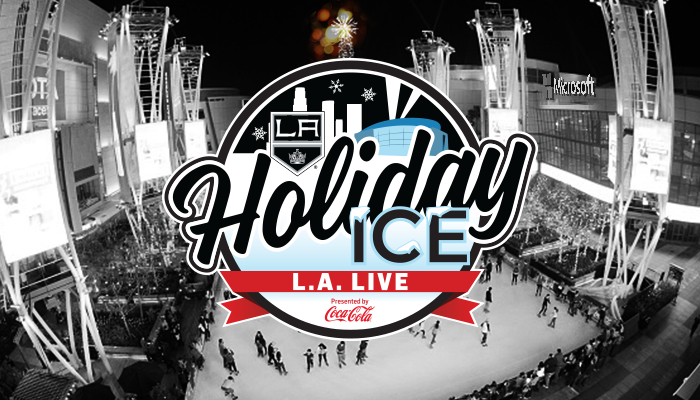 Welcome to LA Kings Holiday Ice
at L.A. LIVE!
The annual LA Kings Holiday Ice brings outdoor ice skating to L.A. LIVE! Make the most out of the holiday season by enjoying outdoor ice skating in the heart of Downtown Los Angeles and take advantage of the 20 restaurants at L.A. LIVE.
Due to popular demand, Holiday Ice at L.A. LIVE will remain open through January 29 to coincide with the 2017 NHL All-Star Game at STAPLES Center!
Please note, however, that the outdoor ice rink will be closed January 9-12.
Make sure you get a spot on the ice and get your VIP tickets to Holiday Ice at L.A. LIVE.
Group Tickets & Private Rentals
For questions about LA Kings Holiday Ice products or to purchase please call 1-888-KINGS-LA (546-4752) during normal business hours Monday-Friday 9am to 6pm. For inquiries outside of normal business hours please call (818) 296-7741.